For companies to stand out, they need to define a competitive advantage for themselves. This deciding factor makes customers choose a particular business over the others. Once a company understands and leverages this advantage, it can win a greater share in the market and attract more loyal customers.
In this 4-part series, 'Competitive Advantage,' we cover how generating such an advantage can make companies stand apart from the competition and build a framework to leverage it the right way, best practices, examples, and more.
Our first article in this series delves into understanding competitive advantage and its significance in driving organizational growth.
Decoding the Term
Competitive advantage is the attribute of a company that enables it to get the consumers' attention better than its competitors. It allows the company to produce better goods or services than its competition or equal quality for a lesser expense. Thereby helping the customers in their buying journey to choose your company versus other choices.
As a result, the companies become more likely to drive up sales and improve ROI and a significantly higher value than its competition for its stakeholders. A company with a distinctive competitive advantage enjoys significantly lower costs in acquiring customers.
A company can achieve this advantage by providing a product or service that is more appealing, effective, and/or affordable than the ones offered by its competitors, or even through a better user experience and customer service. If the competitive advantage is ingrained into the brand promise it becomes easier for the customers to perceive the same.
The source of competitive advantage varies individually with companies and sectors. Some common examples include
A unique product or service that cannot be offered by anyone else due to protection from patents, IP laws, etc.
Better product quality than the competitors (differential competitive advantage) that lasts long
Cost leadership (the potential to produce goods and services equal to the competitors for a lesser cost) thereby reducing the acquisition cost for customers
Strategic pricing based on a relationship that a customer enjoys
Usage of unique production methods and technology
Access to resources, production materials, and new/proprietary technology that is restricted from competing firms
Skilled workforce and quicker customer service
Geographic location and market positioning
A trusted and unique brand
Utilising Data analytics & insights to come up with custom offers
Engaged community that serves as brand ambassadors
For a business to distinguish itself from its competitors, its competitive advantage must be hard to duplicate. If your rivals can easily imitate, then the advantage is lost. Competittive advantage should be sustainable.
Furthermore, you would have to revisit your competitive advantage if your competing firms catch up with your idea, no matter how novel it may be. For instance, some industry sectors are easier for copycat businesses to appear and survive in, such as soft drinks, real estate, IT, etc.
In such cases, the company's brand image recognition and reputation might be a competitive advantage it can leverage.
Why Is It Important?
Establishing a good competitive advantage is one of the most crucial goals of a business. Without it, it becomes difficult for companies to drive conversions and generate higher revenues and loyal customers. While there are many benefits of creating a perceivable competitive advantage, let's consider the top 6 aspects:
It plays a vital role in a company's survival and long-term marketing success in the industry because it can help attract more customers more often and generate higher sales and profits.
There is a war for attracting and retaining the right talent. It can even help draw in more talent for the workforce and potential brand alliances and issue-focused investors (donors, foundations, etc.) and contribute to brand loyalty. With a competitive advantage, your company's revenue streams can achieve constancy and predictability.
If your organization has a competitive advantage against its competitors, it will allow you to focus your talents, time, funds, and other resources more effectively. Consequently, you can better strategize their use to maximize ROI.
With such an advantage, your business already has a higher chance of attracting potential partnerships that can become a force multiplier for your company's growth both in terms of market penetration and also building a ecosystem around a brand that can sustain your brand relevance.
Competitive advantage enables you to measure your company's progress more accurately and gives your organization certainty and momentum to help it better succeed in the industry. The clear metrics in the form of growth in revenues, profits, employee numbers, office locations if you are in B2B serving enterprise clients, retail store locations if you are in B2C etc., can attract the right potential investors to invest in your venture.
It helps you make better organizational strategies around your distinctive competence and make them work in favor of the company. That is why it is often considered the heart of a company's marketing strategy.
A Sustainable Advantage
Technological advancements have rendered geographical boundaries futile, and the competition has gone global. If you establish your organization in a particular area of advantage, the rivals will keep striving to fill in the gaps and reach similarities.
For instance, over ten years back, very few banks offered internet banking services to their customers as their competitive advantage. Today, nearly every bank offers it, including small and private finance banks.
Hence, to counteract rivals, companies should revisit the competitive marketing strategies that are sure to give them a sustainable competitive advantage in the long term.
To establish a long-term advantage we, at CUSP, ask our clients to answer these three questions-
What value their product is offering?
What is their target customer's pain point?
What edge do they have over the competition? How are you sustaining the advantage?
Answering these questions creates a truly sustainable advantage that aligns with customers' needs, company offerings, and the competition. This empowers your sales rep to convert better and faster.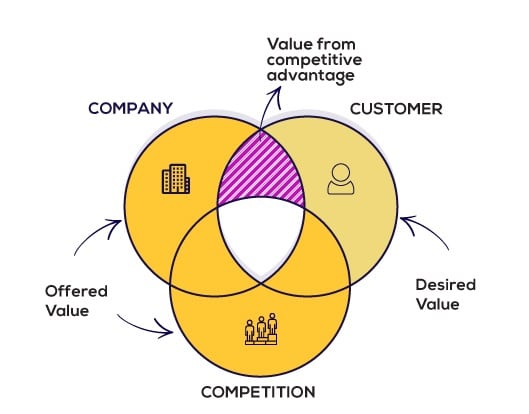 In today's tough and aggressive competition, setting up one or more sources of competitive advantage becomes essential. But you must remember that your company should not strive to get multiple advantages just for the sake of getting them.
You must carefully select your definitive competitive advantage and keep evaluating it to see if the rivals have obtained the similarity. If you seek to generate a competitive advantage for your business and achieve better sales, revenue, and growth for the same, get in touch with us today.
Stay tuned to read the next article in our series "Competitive Advantage" and learn about building a strong winning framework to leverage your advantage effectively.